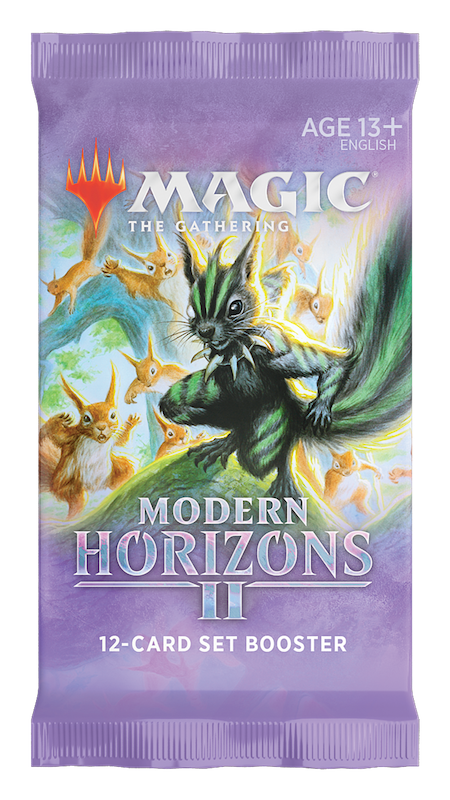 This product will be released on 18 June 2021
Product information
Beschreibung:
Modern Horizons 2
ist das neue Erweiterungsset von
Magic: The Gathering
speziell für das beliebte
Modern
-Format.
Modern Horizons 2 Set-Booster sind die richtige Wahl, wenn du eine Magic: The Gathering Boosterpackung öffnen willst, einfach nur um zu sehen, was drin ist.
Modern Horizons 2 Set-Booster enthalten eine "Neu-in-Modern"-Reprint-Karte, mindestens eine seltene oder sagenhaft seltene Karte und eine Premiumkarte (die Premiumkarten können jede Seltenheit haben).
Jeder Set-Booster beginnt mit einer Künstlerkarte: einem wunderschönen MTG-Kunstwerk ohne Kartenrand, teilweise mit der Signatur des Künstlers in glänzendem Gold auf der Vorderseite.
Ungefähr 1 von 4 Set-Boostern enthält eine Karte aus "der Liste" – einem Kartenpool aus neu aufgelegten Karten von mächtig bis wild, mit Illustration und Kartenrand des Originals.
Inhalt:
- 1 Premiumkarte zufälliger Seltenheit
- 1 "Neu-in-Modern"-Reprint-Karte (ungewöhnlich, selten oder sagenhalf selten)
- 1-2 seltene oder sagenhaft seltene Karten
- 8-9 gewöhnliche und ungewöhnliche Karten
- 1 Künstlerkarte
- 1 Spielstein-/Werbekarte oder eine besondere Karte aus der Geschichte von Magic ("der Liste")
| | |
| --- | --- |
| Booster Type: | Set Booster |
| Expansion: | Modern Horizons 2 |
| Expansion Code: | MH2 |
| Language: | English |
| Weight: | 0.1 kg |
| Height: | 10 mm |
| Width: | 120 mm |
| Length: | 80 mm |